Orchard Villa Skiathos - villa to rent in Skiathos from owner direct, no fee
Villa to rent in Skiathos from owners direct  in a prime location with level access, direct UK flights, only 10 mins to villa.
Skiathos is rated Greek joint no.2 family holiday island (and best beaches) by "Which?" 'best-buys' mag., and in the 'Times' top 8)
... only 5-25 min to dozens of sandy beaches / tavernas, traffic-free village, boutiques, and quayside tavernas - café-bars.
ORCHARD VILLA / SKIATHOS OVERVIEW (contractual only as in formal "Rental Agreement" with holidaymaker).
For detailed  prices - dates available - photos - guest reviews ... click ⇒ Orchard Villa , or these ⇑ images ... 
Orchard Villa nestles in a ½-acre securely fenced olive-grove, with easy access from private parking drive for 4 cars, on a peaceful hillside over Skiathos Bay and its stunning '7-island' panorama ('good view' is severe understatement). It's near village, only 10 min. drive to harbourside tavernas, cafes, and shops ... near beach (only 5-25 mins drive to 50+ sandy beaches and coves), near sho!ps, and near taverna (3 of the Skiathos' top-10 within 12 mins walk),

It's a traditional Greek island villa with blue shutters, low red-tiled roofs, and roof sun-terrace. There's a large cool flag-stoned split-level living room, four air-conditioned wood-beamed bedrooms, 3 wet-rooms (one en-suite), and split-level salon with British 'pub'-style bar across to friendly open-plan kitchen.  
Four French windows open onto a furnished vine-covered courtyard patio overlooking the three garden terraces for sunbathing, partying, and drinks by the private pool. The patio is is your extended living-room, comfy for dinner and drinks 'til after midnight, with the garden lights and moonlit views across the bay to twinkling village lights on Skopelos and Evia Islands.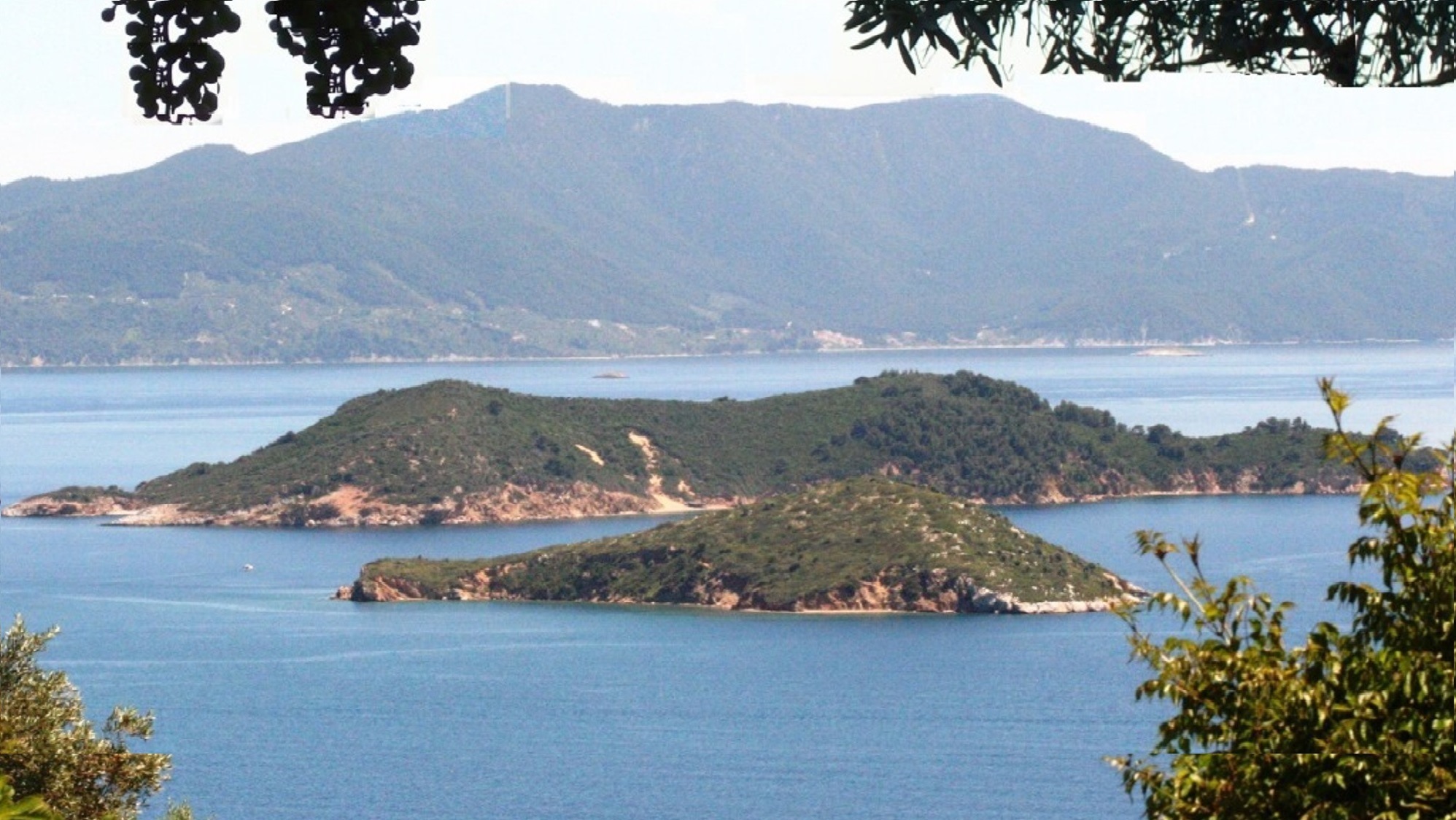 For more INFO, FLIGHTS, and BOOKING: contact Kevin to rent direct from owner, no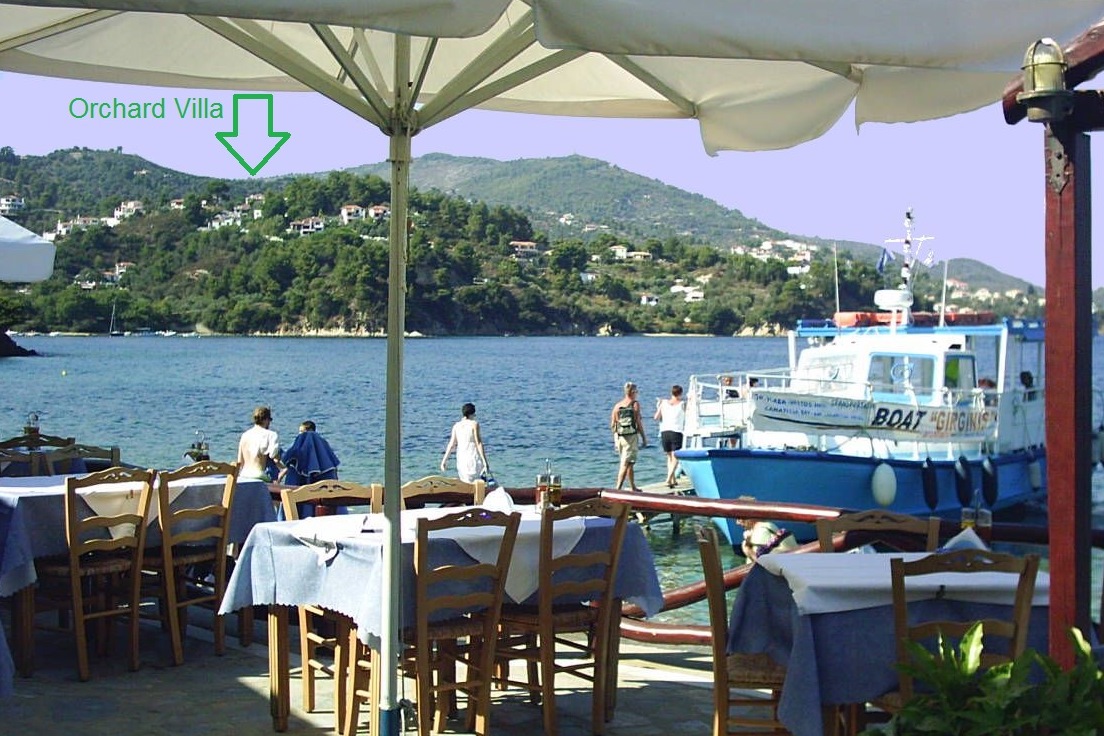 'service charge'or hidden booking fee / agent's commission. Either send 'Contact-Enquiry' (⇐ click), or for call-back tel/W-App: 0033 663425050; or email: viviennes.villa@gmail.com

... and Villa Owners on or near Skiathos, click ⇒ to 'List your Villa free'                        
SKIATHOS OVERVIEW, TRAVEL
 

...  for all ... Photos - Flights - Guides - Facilities, click ⇒ 'Skiathos'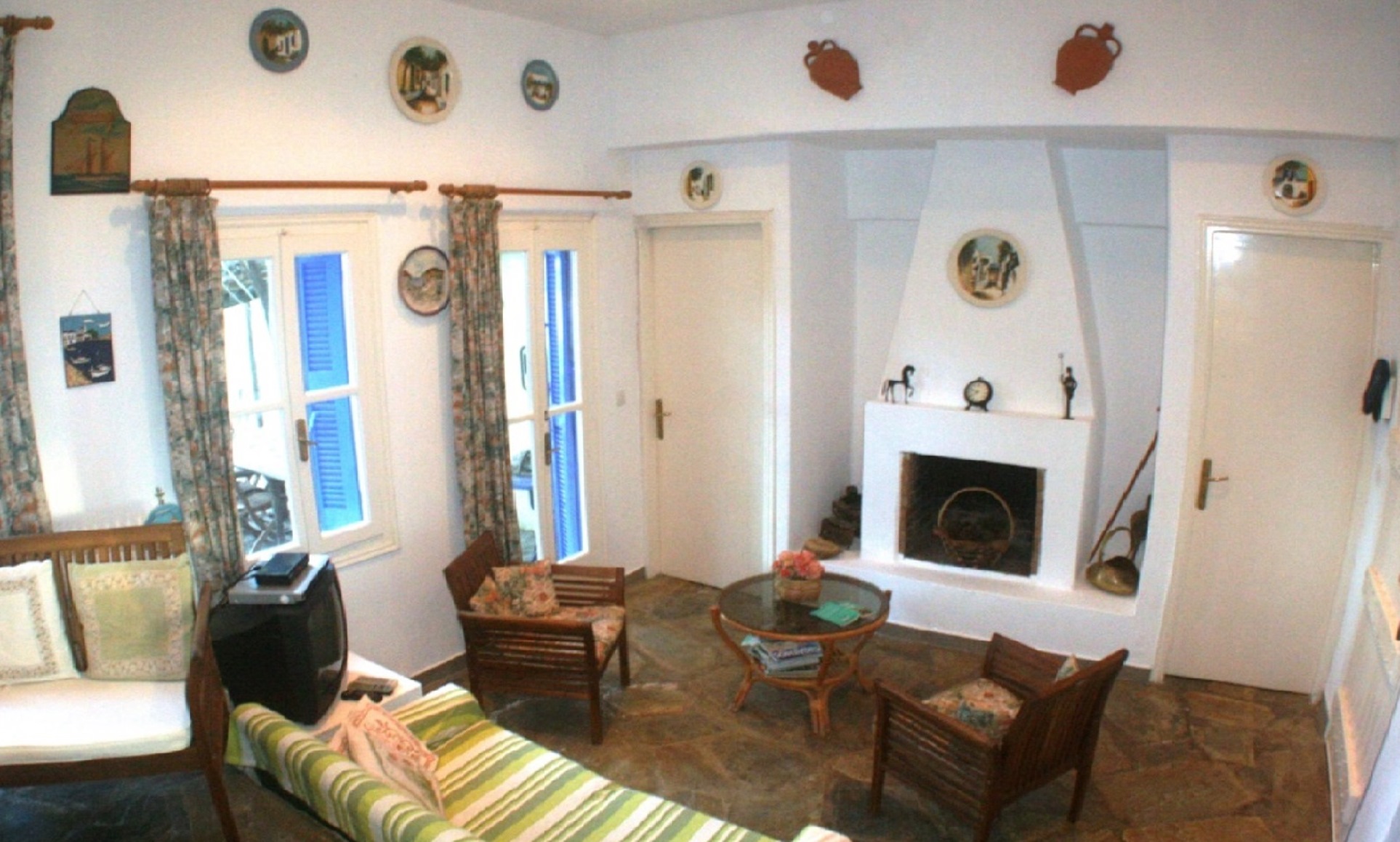 Picturesque traffic-free Skiathos Village (10 mins) and harbour saw the 'Arrival of the Fathers' in Mamma Mia.
Cobbled traffic free lanes lead to taverna-lined harbour and marina, scores of shops, tavernas, clubs and bars, and all services. 
Most Skiathos villas are built in traditional Aegean island style, with low-pitched red-tile roofs, blue shutters, white or pastel walls - just like 'Orchard Villa' above (and no giant multi-storey hotels)
Skiathos has a world-class scenic coast and views (click for ⇒ 'Photos'), and unlike most Greek islands, literally scores of sandy beaches and coves. The dozen or so larger beaches have tavernas, bars, and water-sports.
All beaches on the main island are within 5-25mns drive, plus maybe a scramble down to a favourite secluded cove. It's also pleasant - but takes longer - by water-taxi from the harbour, and to beaches on nearby islets Tsougria and Arkos (with simple cantinas).
Press reviews:
The "Which ?" top UK 'best-buy' mag names Skiathos as their "joint No.2 Top Greek Island", and here's "The Times" 'top-8 Greek islands' review ⇩  
Petite Skiathos is home to a huge 63 of Greece's most picture-perfect beaches. Deep green pine forests cloak the hilly interior, while beautiful, vivacious Skiathos Town - this is your spot for harbour-view cocktail bars and gourmet restaurants - turns into a lively street party every summer night. It's an island for the young and young at heart, including a few celebrity regulars, but you'll find plenty of affordable tavernas, bars and beaches even if you don't have a Hollywood budget

OVERVIEW of TRAVEL to - and on - Skiathos Island (for all travel details: click ⇒ 'Travel to Skiathos')
Skiathos airport upgrade brought in more budget air-fares and direct UK and EU charters, and direct B-A flights (Jul-Aug). Other options: budget flights to Athens and onward by domestic 'Aegean/Olympic' airline or express hydrofoil.
It's also surprisingly quick and practical to combine a Skiathos holiday with a tour by road ... possible stop-overs Venice, the Alps, Athens.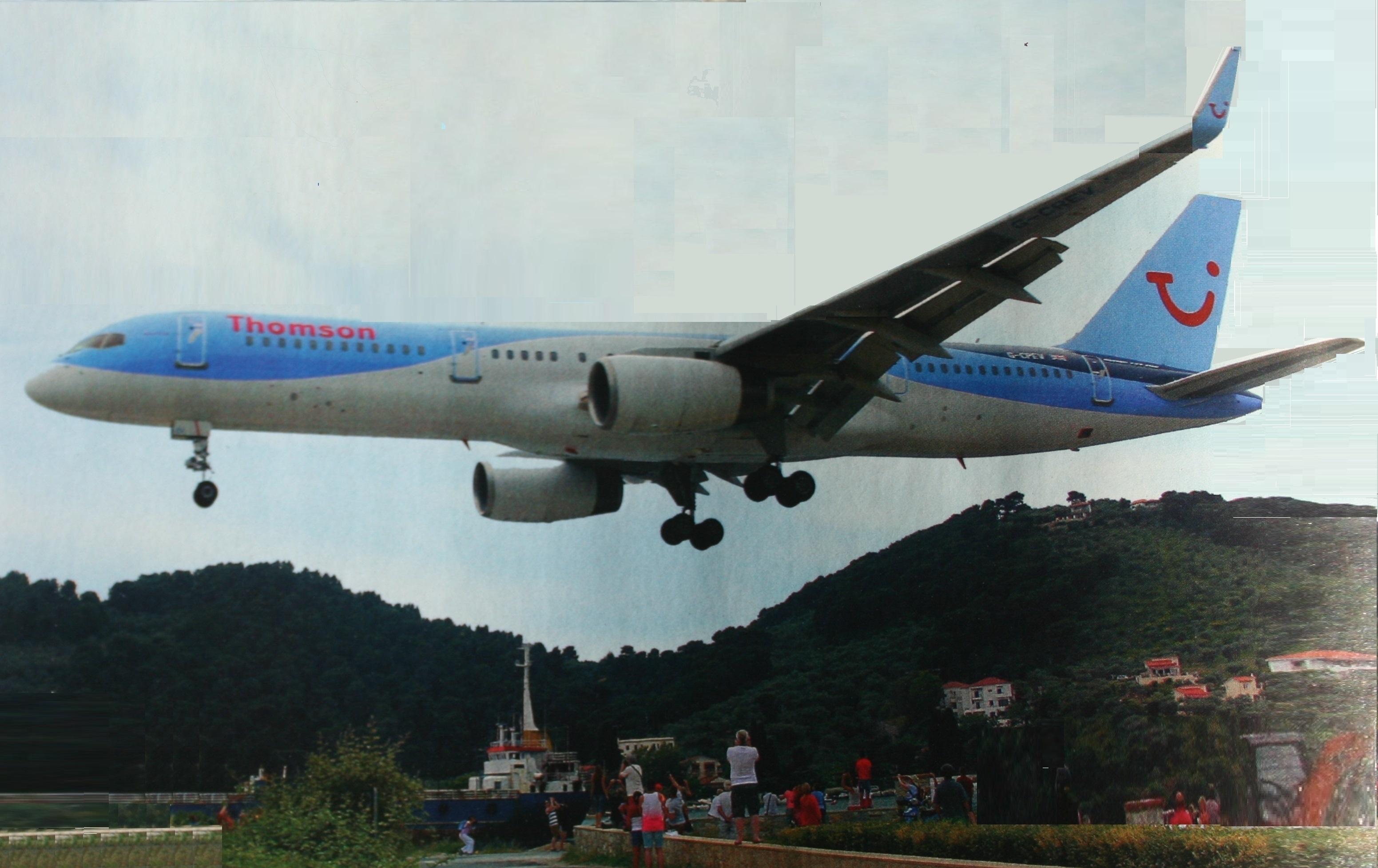 Local transport is good - bus, radio-taxis, water-taxis, ferries for island or mainland trips. Away from beaches are dozens of village and country tavernas; hill walking, forest hikes, horse-riding, trail biking; and restored Byzantine monasteries and chapels (but no 'classical' ruins!). 
And all on an island barely 9x6 miles many see as the most attractive in all Greece.


To get around this 'Skiathos Greek Villas' website ... Click the menu along the top of each main page to get to other website main pages
... or click links to each main page here ⇩ . 

Orchard Villa - Contact-Enquire-Book - Travel to Skiathos - Skiathos Island - About Us - Reviews - Blogs
For details of Orchard Villa and booking (Contact-Enquiry) click links below, or as menu tabs on the Orchard Villa page ...
The Villa - Photos - Contact-Enquire-Book - Reviews - Villa 'spec' List - Villa Map - Prices - Dates available - Holiday Themes